Stress-Induced Hair Loss: Make it Stop!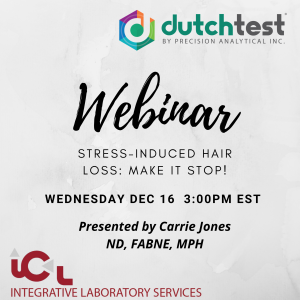 4th December 2020
Date: Wednesday December 16 at 3:00pm EST
 Presented by Carrie Jones, ND, FABNE, MPH Medical Director, Precision Analytical Inc.
Learning Objectives:
Understanding the cycles of hair growth
The effect of cortisol on the hair follicle
How 5a-reductase and DHT androgen pattern affect hair loss
Other common reasons for hair loss, such as: thyroid problems, chemicals, nutrient deficiencies, estrogen/progesterone imbalance, and infection
Hair restorative strategies from a conventional and functional perspective
Hair thinning or hair loss is a common complaint among patients. It's not just vanity, but also signals something is going on deeper in the body. While there are many causes, stress is near the top of the list.
The current pandemic has brought no shortage of stress, which not only acts directly on the hair follicle itself, but also negatively influences other key endocrine hormones such as the androgenic 5a-reductase pathway and thyroid function. Unfortunately, hair health is not seen as body critical during times of fight or flight, therefore men and women notice more loss or thinning, which further perpetuates their feelings of stress.
This webinar will discuss stress induced hair problems from scalp to follicle to hair shaft and present treatment modalities to hopefully restore that thick and shiny mane.