Is Testosterone Right for me Now?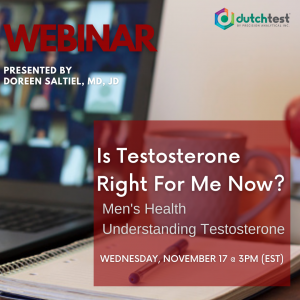 9th November 2021
In this free webinar, Doreen Saltiel, MD, will explore the case study of a 35-year-old male patient. She will dive into a real-life DUTCH Plus® report, analyzing the relevant hormones and their metabolites to determine if Testosterone replacement therapy is the right treatment for this patient.
Dr. Saltiel will discuss indications for testosterone therapy, what current guidelines do and don't tell us, and finally what treatment options are available including dosing guidelines.
About our Speaker: Doreen Saltiel, MD, JD, has practiced medicine for almost 40 years. She completed a cardiology fellowship and board certification and practiced interventional cardiology for more than 25 years. She currently practices functional medicine with an emphasis on hormone health in both men and women as well as preventive cardiology. Dr. Saltiel completed advanced fellowship training in Metabolic and Nutritional Medicine from MMI and is a Diplomate of the American Board of Anti-Aging and Regenerative Medicine. She also completed MMI's advanced certification in Endocrinology and Cardiovascular Health. Dr. Saltiel has co-authored multiple peer-reviewed papers and recently joined the Founder of Precision Analytical, Mark Newman, to present hormone testing research at the North American Menopause Society's Annual Meeting.
This live webinar has ended. Please Click Here to access the webinar recording.
The opinions expressed in this presentation is solely that of the presenter and not necessarily those of ICL.  ICL does not guarantee the accuracy or reliability of the information provided.