Making Sense of Unusual Ig Results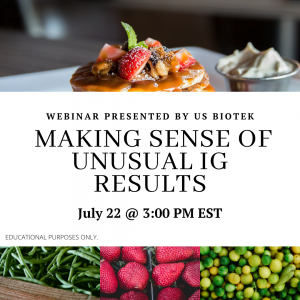 15th July 2021
US BioTek Presents: Making Sense of Unusual Ig Results
Thursday July 22 at 3:00pm PM EST
After using Ig testing for some time, you often have an idea of how the test results are going to come back based on the individuals' lifestyle and symptoms. But every once and a while you receive Ig results that make you say "well that's odd…" Dr. Andrea Gruszecki is taking on these odd test results to explain the most common questions that arise, how the results may have come to be, and what they mean for your patients/clients
The webinar will make sense of:
Pre-analytical errors
IgG, IgE and general health
High IgG levels
Low IgG levels
Elimination and rotation
Reintroduction
Nutritional and supplemental supports
Have a question? Please contact us at: news@iclabs.ca
The opinions expressed in this presentation is solely that of the presenter and not necessarily those of ICL.  ICL does not guarantee the accuracy or reliability of the information provided.