Is Heavy Metal Toxicity Ruining Our Health?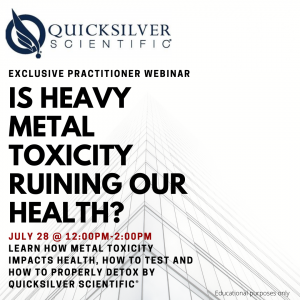 5th July 2021
When: Wednesday July 28 at 12:00 PM- 2:00 PM EST
Toxic metals can be found in our food and water, environmental pollutants, and through occupational exposure with the most toxic and common metals being mercury, arsenic, cadmium, and lead. These dangerous metals have the potential to accumulate in the body causing a wide range of health issues and symptomology. They can disrupt the body's natural processes by affecting mitochondrial function, stress hormone production and adrenal function, thyroid T4/T3 conversion, brain function, immune system regulation, virus susceptibility, reduced glutathione stores, increased inflammation, and reduced detoxification. Ongoing exposure can leave patient's struggling with chronic fatigue, anxiety, brain fog, and mood dysregulation. Dr. Shade discusses heavy metal toxicity and why it is imperative to test, especially when chronic conditions persist. He'll explain how to utilize Quicksilver's patented Mercury Tri-Test and the Heavy Metals Panel to assess toxin levels in patients and how best to support detoxification of heavy metals.
Please reach out to us if you'd like any more information on metal toxicity testing and more – ILS_Sales@iclabs.ca
 The opinions expressed in this presentation is solely that of the presenter and not necessarily those of ICL.
 ICL does not guarantee the accuracy or reliability of the information provided.