Introducing DUTCH Cycle Mapping PLUS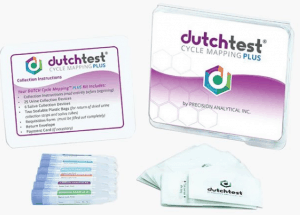 14th July 2020
Precision Analytical has introduced the DUTCH Cycle Mapping™ PLUS!
This new test maps estrogen and progesterone through the monthly menstrual cycle, adding comprehensive hormone metabolites along with the cortisol awakening response (CAR).
WHEN IS DUTCH CYCLE MAPPING™ PLUS RECOMMENDED?
When struggling with infertility

For women with cycling hormones and no menses

Partial hysterectomy (ovaries intact but no uterus)

Ablations

Mirena IUD (no actual menstrual bleeding due to IUD but still has hormonal symptoms)

Women with irregular cycles

PCOS

If the luteal phase shifts month-to-month

Unsure when to test due to long or short cycles

Women whose hormonal symptoms tend to fluctu­ate throughout the cycle

When suffering PMS, mid-cycle spotting, migraines, etc.
WHEN IS DUTCH CYCLE MAPPING™ PLUS NOT NEEDED? (DUTCH COMPLETE™ OR DUTCH PLUS® IS SUFFICIENT)
Postmenopausal women

Women on birth control

Women with cycles following the expected pattern
Watch the webinar below for more information on this test.
Please reach out to your ICL rep for pricing, sample reports and information sheets.