Food Intolerances - the Unexpected Result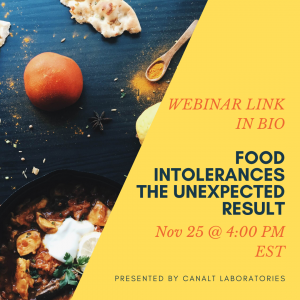 12th November 2020
Presented by: CanAlt Health Laboratories
A food sensitivity is a delayed reaction caused by IgG antibodies to specific foods and can lead to chronic inflammation as well as other health conditions. An IgG food intolerance test identifies specific food sensitivities assisting health practitioners to provide effective dietary recommendations for their patients.
In this complimentary webinar, our guest speakers will address:
The role the cross-reactivity of proteins play in the interpretation of IgG
food intolerance testing.
What are panallergens?
Examples of cross-reactivities.
When is a cross-reactivity clinically relevant?
An associated case study.
Q&A
Following the presentation, there will be an opportunity for attendees to ask their own Question
Have a question? Please contact: news@iclabs.ca