We're Hiring a Senior Solutions Specialist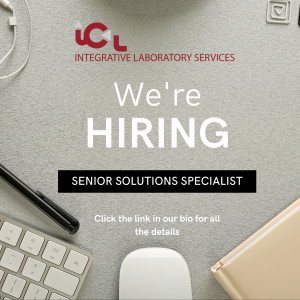 20th October 2022
The Integrative Laboratory Service Team is Hiring!
We are hiring for an experienced, seasoned, energetic, and talented individual with a keen interest in health and wellness and sales experience to join our Integrative Laboratory Services (ILS) Team in the position of Senior Solutions Specialist.
Reporting to the ILS Sales Manager, in a customer centric environment, the Senior Solutions Specialist will interact with naturopathic and integrative medicine practitioner clients to assist in achievement of ICL's ambitious client acquisition and revenue growth objectives. The Senior Solutions Specialist will work with clinicians to generate interest, qualify prospects, close sales, identify tests and lab service solutions that will ensure a smooth end-to-end laboratory testing service process. The Senior Solutions Specialist provides coverage in case of staff absences including for "I CARE" an after-hours client support line by assisting clients with questions and providing service to clients in multiple time zones.
The Senior Solutions Specialist will be focused on increasing market share by finding new sales leads, through cold calling, association directories, client referrals and leads from partners.
The ideal candidate will have prior experience working with naturopathic doctors and/or integrative medicine practitioners and their clinical staff. Certification in Holistic Nutrition is strongly preferred.
This is an exciting opportunity for a candidate who:
• Understands healthcare environments and can communicate ICL service offering both over the phone and in person to generate revenue growth.
• Has proven sales experience and track record of over-achieving quota
• Has passion for proactive canvassing of the clientele to understand their needs and challenges.
• Has high degree of initiative and ability to think outside of the box.
• Is interested in health and wellness
• Is friendly and well-spoken
To succeed in this role, the candidate will absolutely need to:
• Have Superb Customer Service & Communication Skills: The Senior Solutions Specialist will need excellent verbal and written communication skills and the ability to listen to assess client needs, respond to queries and problem solve and be comfortable to connect with clients by phone, email, text or in person.
• Have Prior Healthcare Sales experience: The Senior Solutions Specialist will need to become knowledgeable about Company's offering quickly to be able to achieve client acquisition and revenue growth objectives.
• Be Flexible and Mobile: The Senior Solutions Specialist will be required to attend weekly team meetings at the Oakville company's head office and travel to ICL's Toronto office and/or client offices for meetings, as required.
Overview of Major Responsibilities
• Research accounts to identify key players, generate interest and qualify prospects
• Team up with reference laboratory partners to respond to leads
• Find new sales leads and new opportunities, including pre-call planning
• Make outbound cold calls and emails
• Follow up on inbound leads
• Make virtual and face to face sales calls with clients
• Close sales, track sales activity and achieve revenue targets
• Understand client needs and requirements
• Communicate the needs and requirements to operation and finance
• Onboard new clients by coordinating the end-to-end laboratory testing service
• Support clients through the various onboarding processes
• Organize subsequent test requisitioning and results reporting processes
• Perform effective online demos to clients that require portal assistance
• Nurture client relationships by responding to customer enquiries and messages in timely manner
• Provide coverage, as assigned, and trained, in case of staffing absences and shortages, including providing coverage for after-hours client support line
• Provide input to marketing collateral
• Attend industry conferences
• Participate in weekly team meetings
Required Knowledge/Skills/Competencies/Work Habits
The prospective candidate will have most of the following:
• BA/BS degree or equivalent
• Holistic nutrition certification is strongly preferred
• Healthcare experience preferably in laboratory services is preferred
• Proven sales experience
• Track record of over-achieving quota
• Strong phone presence
• Experience with cold calling
• Strong verbal and written communication and reasoning skills
• Strong listening and presentation skills
• Ability to multi-task, prioritize, and manage time effectively
Bona fide Occupational Requirement
• Mobility – must have access to a car and a valid driver's licence
About ICL
ICL: For more than 50 years, ICL has been committed to providing our clients with a high-value, low-cost, test and logistical consolidated service. Established in 1967 to coordinate patient testing, ICL operates as a Not-for-Profit, Canadian corporation that is dedicated to ensuring client access to both a national and international laboratory test referral network. ICL simplifies the practice of ordering tests, routing and tracking samples, and providing results through each of our three distinct services – Hospitals and Laboratory Services, Integrative Laboratory Services and Specialty Services – using our laboratory information and network systems. ICL's clients benefit from immediate access to a wide spectrum of tests performed by accredited laboratories along with a consolidated billing process.
How to Apply: Send your resume to shamsakhundova@iclabs.ca by November 1, 2022
ICL is an equal opportunity employer. We offer accommodation for applicants with disabilities, as required, during the recruitment. We would like to thank all applicants for expressing their interest. Please note that only those selected for interview will be contacted.